Her gym instructor is giving her a private lesson at her house, and he's a very hand-on teacher. She's just as interested in how her butt, hair and makeup look as anything else, but as she gets sweaty, the two of them kinda lose track of what the hell they're supposed to be doing and get into some naked body-on-body action that would never be allowed in a gym. He tries in vain to stay focused on what he's being paid to do, but when your client is sucking your cock, it's time to say, "It's your dollar," and let her do what she wants.
Her husband's spent "big bucks" to get a tennis pro to come to their house to teach his wife, Raquel, how to play tennis so they can play together at the country club. The pro is dedicated to his task and tries to get Raquel to improve her grip on her racket. But as soon as she knows her husband is gone, she makes it clear that she'd rather concentrate on a different grip - gripping the young pro's cock. After sucking him silly on the tennis court, she takes him into the guesthouse where she shows that she may be a learner at tennis, but she's a pro at sucking and fucking!
Top-Rated Amateur Videos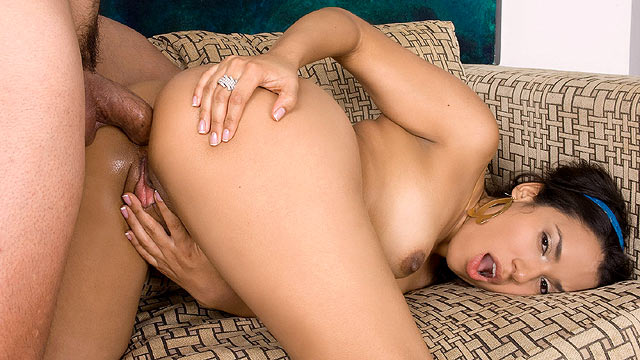 Horny, young Annika is on the phone with her guy, rubbing her pussy and talking dirty to him. Then she blows his mind by telling him to come a running because she wants him to fuck her ass. He's in such a hurry, that he nearly goes right through the glass door! He arrives, and soon he's licking her pussy and fingering her cunt. She sucks his cock to get it good and ready, then he plows her cunt to get her totally sexed up. When she asks for the ass-fucking, he's only too happy to oblige. You can tell from the noises she makes that this is what she was waiting for! He works her ass hard, then thanks her with cum shots down her ass crack.
It's a beautiful summer's day, and what can possibly make it better than a little afternoon delight? When a horny guy spots a hot babe on a nearby hi-rise balcony, words don't need to be exchanged. Tanner spots our man and invites him over. She makes her horny intentions fairly clear by greeting him sitting on her bed. Not one for wasting time with small talk, our man gets right to the point by making his cock the center of attention. So, does Tanner get offended and sent him packing or call the cops? Fuck no! She wants what he's giving!