Kitty is trying to study, but the TV in the other room is too loud. But it's not her brother who's making the noise, it's a buddy of his who he was supposed to be home to hook up with. So best friend and younger sis meet up, sit on the couch and start into flirting. There is sexual tension in the air as flirting becomes touching which soon becomes pussy licking and fingering and cock sucking. Then the two fucksters give the couch a hard workout as Kitty rides the dude's cock for all she's worth and has a loud, sweaty orgasm. He shows his appreciation by giving her great pair of titties a cum bath...and promising not to mention anything to Kitty's brother.
More Amateurs »
A Peeping Tom gets way more than he could have ever hoped for when he looks in Bryce's bedroom window. The horny babe is lying on her bed, working up to a diddling session. As she gets excited, she sheds her daisy dukes, t-shirt, bra and panties and really lays into her snatch, working it while lying on her back and then while up on all fours. Then she notices the Peeping Tom--or did she know he was there all along? She beckons him in and, within seconds, he's eating her out. He gets rewarded for this with a good cocksucking, then they get down to some hard-and-loud fucking.
More Amateurs »
Top-Rated Amateur Videos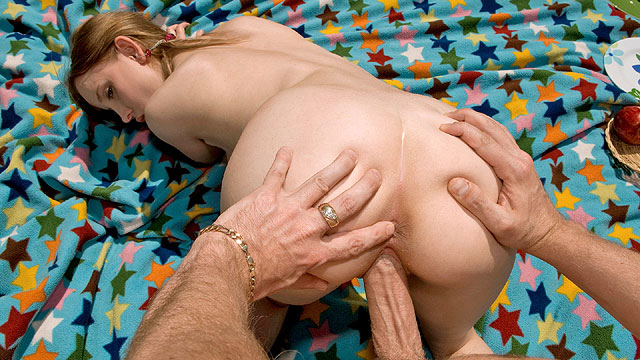 Who needs to go to a park or the beach to have a picnic when you've got a perfectly good backyard? That's what Missy Mae and her guy think, anyway. Hey, he wouldn't be able to get a wet and sucking blowjob at the beach, and the two of them wouldn't be able to fuck like a couple of rabbits! Well, perhaps they could for a minute or two, till the law showed up and spoiled it for them. But in their own backyard, Missy Mae and her man have nobody to disturb them and nobody to hear them, so they can totally let themselves go, with only you to keep watch!
More Amateurs »
He's outside in the hot sun, cleaning another fuckin' pool and thinking about the end of the day and having a few cold ones with his buddies. But Angelica Meow, the redhead, and Molly Lace are inside...and they're horny. They're sick of using dildos and masturbating to get off, and they decide that the guy they see outside needs to get a double-dose of cock-sucking and hot, tight pussy action. So they check his "availability" by flashing him, and when he shows interest, it's down with the panties, off with the tops and let's get it on. Being good friends, the girls share everything, including orgasms and his sticky load.
More Amateurs »