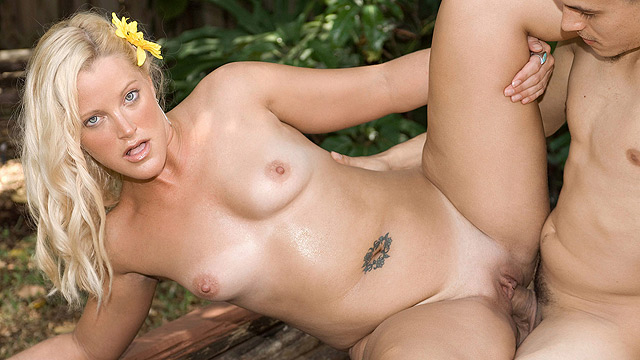 The plumber is just about finished working on the kitchen sink when he spies Carolina, the lady of the house, sunbathing topless in the backyard. She walks in cool as you please, for a drink of water and gets him hard immediately by rubbing an ice cube over her hot, tanned tits. She grabs his cock through his pants and asks if he'd like to join her outdoors. Perhaps they can work up a sweat together. Naturally, he's a starter! This babe is a first-rate cock-sucker and a very athletic fuck. The scene has some of the best cock-sucking and hard-fucking camera angles you could ever hope to see.
More Amateurs »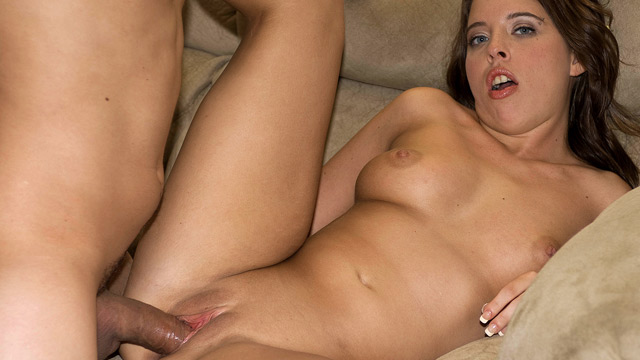 Young Kalee is home alone while her parents are away. She's lying in the backyard in a sexy, little bikini, enjoying the sun when she catches her neighbor spying on her over the fence. She calls him over to find out what he's up to, then sparks fly and it becomes apparent what they'd both like to get up to. Sunbathing always makes girls horny, so she invites him inside for a glass of lemonade. But fuck the drinks, they'd rather be screwing, so a minimum of small talk leads to a maximum of cock sucking and hard screwing that gets both of them what they're after.
More Amateurs »
Top-Rated Amateur Videos
Brittney is selling magazines door to door. As she tells a friend on the phone, she only needs one more sale to win the sales competition. On her final call, the door is opened by a stud who tells her that he doesn't have much time for reading and, anyway, he has a pile of muscle mags to keep him happy. Brittney offers him a two-for-one deal and something else as a persuader; something that she makes pretty obvious when she starts rubbing his hard-on through his shorts. Of course, he tells her if she gives him what she's offering, he'll buy all the mags! He repays her eager blow job with some serious pussy munching, then he screws her hard and deep on the sofa and gives her a cum spray as a final tribute. So Brittney wins every which way!
More Amateurs »
Michelle is horny and it's getting worse because she's looking out the window at a half-naked stud mowing the lawn. What's a poor horny girl to do? That's easy! She strips down to her little, pink panties, opens the door and tells the guy that she's got his pay. She is holding a fistful of bills, but her semi-naked state tells him what his tip's gonna be if he wants it. He does! He comes inside to find Michelle naked on the couch, with her pussy hidden by bank notes. Some fingering, kissing and blowing get them out of the way and he gets into muff diving. Michelle returns the favor by sucking his cock, then he pounds her like she wants and creams on her magnificent breasts.
More Amateurs »