Gia is doing what a lot of horny girls do: Sitting on the couch, watching porn on her computer while playing with her little titties. She is pissed and left frustrated when the computer crashes, so she calls for an I.T. tech to come and fix it. Seeing the young service guy gives her horny ideas and she easily seduces him. After eagerly sucking his dick till he's good and ready, Gia gets plowed every which way, and the noises she makes tell you that she really likes it. The I.T. guy shows his appreciation by giving her chest a big load of jizz for her to rub into her skin.
This innocent dude comes a knocking, wanting to check out a water-view apartment that he and his girlfriend can turn into their new fuck-nest. The landlady is horny. He just wants to negotiate on the price, and she just wants to negotiate his cock into her cunt. Like most guys would, he does protest and put up something of a "fight," but having his hands pressed onto her tits soon convinces him to go for it. After all, tenants know that you gotta keep your landlady happy. If you like loud sex with plenty of cock noise and moaning, you'll blow your load over this video, just as the guy blows his load over Victoria as she finishes cumming.
Top-Rated Amateur Videos
Supposedly, Ryan has to make a video for a college course on TV productions. She calls a long-time guy friend and asks him to come over to fuck her for the video because other friends have said that he's got a big dick. Of course, he comes right over and, to give him credit, he does ask about the movie. Ryan says it's supposed to be about human relations-which she has interpreted as fucking. So the guy agrees and films Ryan stripping and sucking his cock. Then they hump on the sofa, and he gives her a facial salute as thanks. A lot of this is shot in POV, putting you in the action. So, did Ryan really have to make the movie for her course? Who the fuck cares?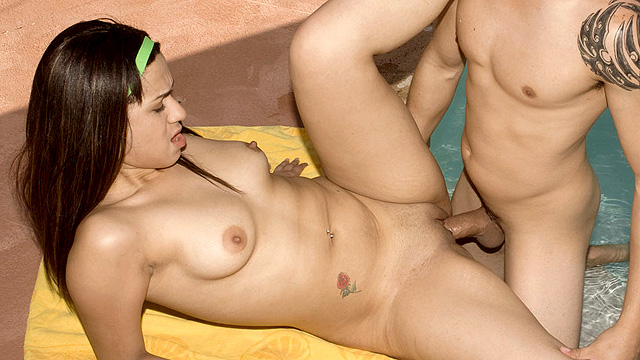 Missy is home alone and bored. She's catching sun by the pool. When she applies some more oil to her chest, her fingers start wandering and soon she's masturbating. Her fingers are working fast in her bikini bottom when she suddenly stops. "You know I can see you over there," she says. "Do you want to stop playing with yourself and come over and fuck me?" One of her neighbors emerges from the bushes with his pants down and his cock out. Missy is not pissed: She's delighted! She drops to her knees and proceeds to show us why Paris Hilton should have her as her BFF: so Missy can show her how to really suck cock! The lad fucks her good and hard as Missy gives noisy encouragement, then he gives her a facial reward.