Hopeful Ann is setting up a yard sale in her front yard. But as her first potential customer-a bit of a stud-tells her bluntly, she is selling "crap." But could Ann suddenly have something else in mind? She invites the guy inside to see something else she has for sale, and takes him to her bedroom where she retrieves a hummingbird sex toy from her nightstand. He says he might be interested in buying it, but he doesn't really know how it works. So, Ann gives him a demonstration that gets her hot and, of course, leads to some intense cock sucking and heavy-duty fucking. Ann does get a facial salute...but no sale.
More Amateurs »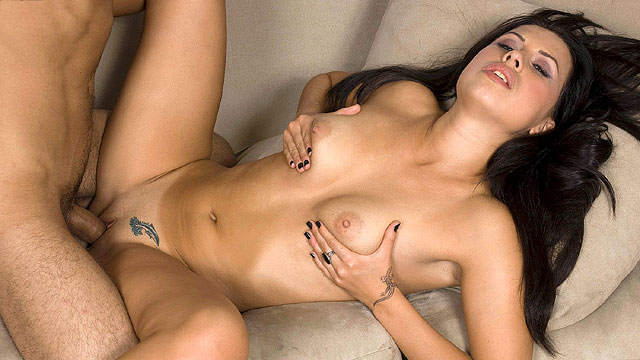 Katya's got a problem. Her air conditioning is not working and she's really hot. She calls for a repairman, but gets sidetracked while she's waiting for him and works up a sweat with a little masturbation action. So, by the time the repairman arrives at her door, the last thing on Katya's mind is getting the air fixed. The first thing on her mind? Getting her pussy filled! She doesn't waste time in coming on to the air conditioning guy, and he doesn't put up any kind of fight. Soon he's getting his cock sucked-right down to the base-and then the couple get into hot and heavy fucking on the couch. If you like loud sex, then this is for you, because Katya is loud... really loud!
More Amateurs »
Brittney is selling magazines door to door. As she tells a friend on the phone, she only needs one more sale to win the sales competition. On her final call, the door is opened by a stud who tells her that he doesn't have much time for reading and, anyway, he has a pile of muscle mags to keep him happy. Brittney offers him a two-for-one deal and something else as a persuader; something that she makes pretty obvious when she starts rubbing his hard-on through his shorts. Of course, he tells her if she gives him what she's offering, he'll buy all the mags! He repays her eager blow job with some serious pussy munching, then he screws her hard and deep on the sofa and gives her a cum spray as a final tribute. So Brittney wins every which way!
More Amateurs »
Michelle is horny and it's getting worse because she's looking out the window at a half-naked stud mowing the lawn. What's a poor horny girl to do? That's easy! She strips down to her little, pink panties, opens the door and tells the guy that she's got his pay. She is holding a fistful of bills, but her semi-naked state tells him what his tip's gonna be if he wants it. He does! He comes inside to find Michelle naked on the couch, with her pussy hidden by bank notes. Some fingering, kissing and blowing get them out of the way and he gets into muff diving. Michelle returns the favor by sucking his cock, then he pounds her like she wants and creams on her magnificent breasts.
More Amateurs »