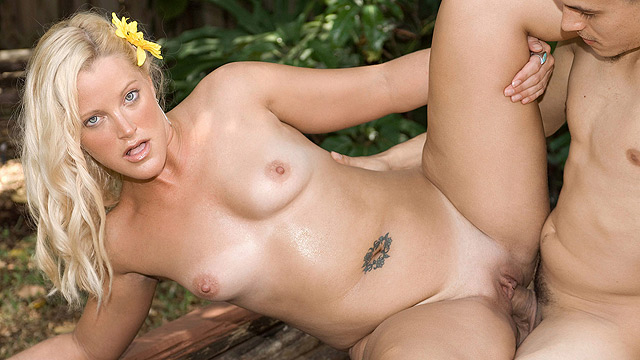 The plumber is just about finished working on the kitchen sink when he spies Carolina, the lady of the house, sunbathing topless in the backyard. She walks in cool as you please, for a drink of water and gets him hard immediately by rubbing an ice cube over her hot, tanned tits. She grabs his cock through his pants and asks if he'd like to join her outdoors. Perhaps they can work up a sweat together. Naturally, he's a starter! This babe is a first-rate cock-sucker and a very athletic fuck. The scene has some of the best cock-sucking and hard-fucking camera angles you could ever hope to see.
More Amateurs »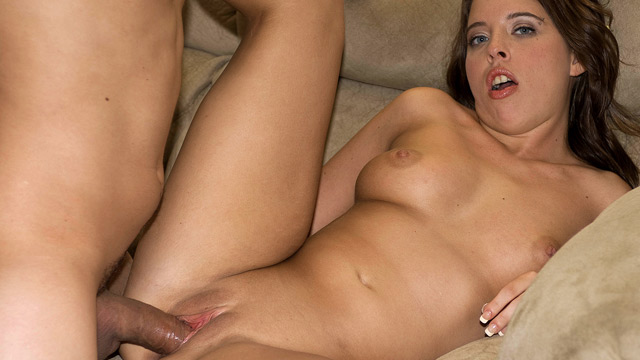 Young Kalee is home alone while her parents are away. She's lying in the backyard in a sexy, little bikini, enjoying the sun when she catches her neighbor spying on her over the fence. She calls him over to find out what he's up to, then sparks fly and it becomes apparent what they'd both like to get up to. Sunbathing always makes girls horny, so she invites him inside for a glass of lemonade. But fuck the drinks, they'd rather be screwing, so a minimum of small talk leads to a maximum of cock sucking and hard screwing that gets both of them what they're after.
More Amateurs »
Sweet, little Shirley and her man are hiding out from the pouring rain in the Florida room. The storm has made them horny, and they're just starting to get busy when the meter man disturbs them. He's ready to take off and leave them to fuck in private, but they invite him to stay and watch. Being something of a voyeur, like most red-blooded males are, he accepts and gets to enjoy some enthusiastic cock-sucking and hard fucking action. Shirley gives a very descriptive commentary of all that's going on as the little girl takes on her guy's big dick and milks it dry.
More Amateurs »
Gia is doing what a lot of horny girls do: Sitting on the couch, watching porn on her computer while playing with her little titties. She is pissed and left frustrated when the computer crashes, so she calls for an I.T. tech to come and fix it. Seeing the young service guy gives her horny ideas and she easily seduces him. After eagerly sucking his dick till he's good and ready, Gia gets plowed every which way, and the noises she makes tell you that she really likes it. The I.T. guy shows his appreciation by giving her chest a big load of jizz for her to rub into her skin.
More Amateurs »
This innocent dude comes a knocking, wanting to check out a water-view apartment that he and his girlfriend can turn into their new fuck-nest. The landlady is horny. He just wants to negotiate on the price, and she just wants to negotiate his cock into her cunt. Like most guys would, he does protest and put up something of a "fight," but having his hands pressed onto her tits soon convinces him to go for it. After all, tenants know that you gotta keep your landlady happy. If you like loud sex with plenty of cock noise and moaning, you'll blow your load over this video, just as the guy blows his load over Victoria as she finishes cumming.
More Amateurs »